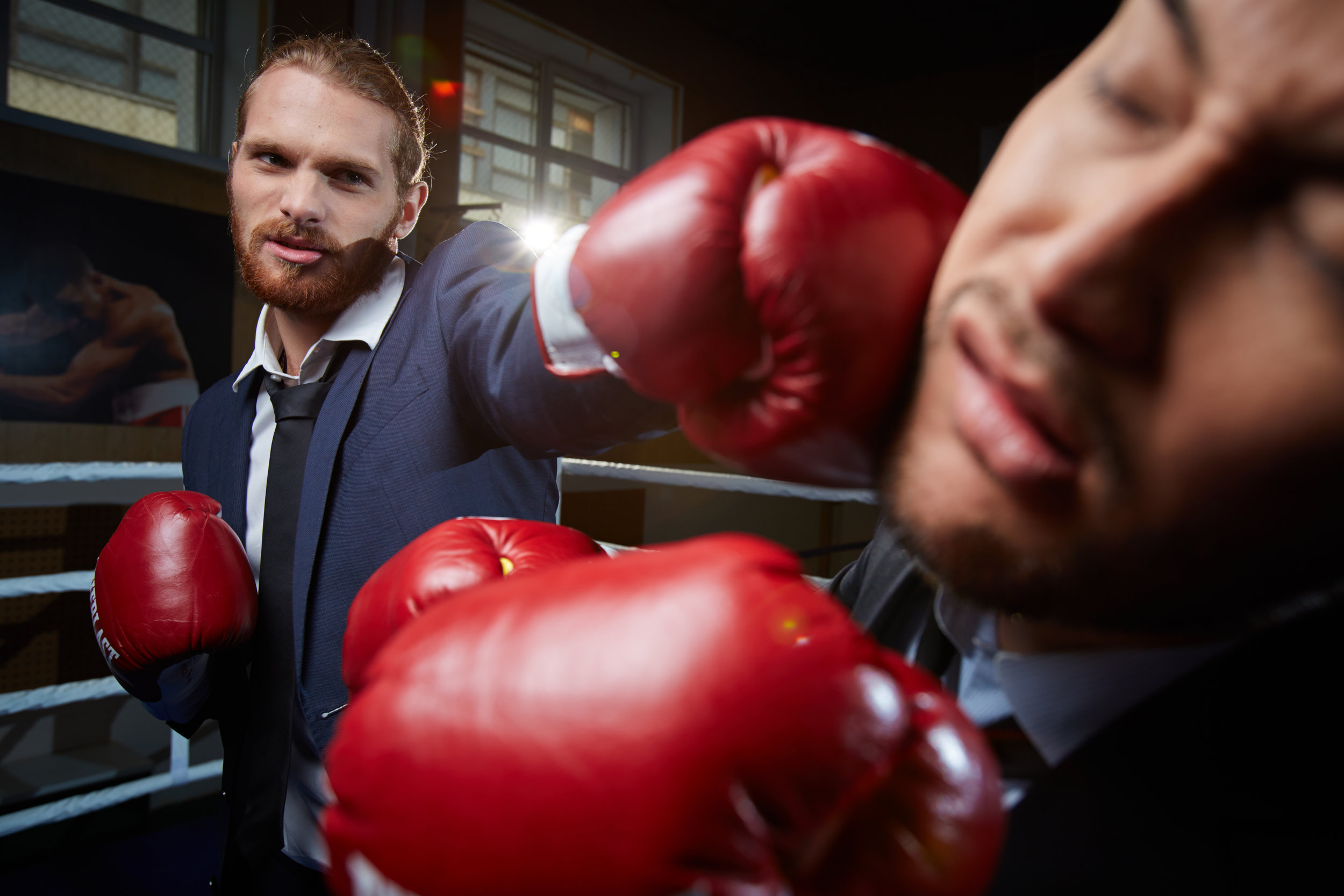 "…so fight I, not as one that beateth the air:" (1 Corinthians 9:26b)
I'm going to take a cue here from the Apostle Paul and use a boxing illustration. So, if you think it's corny, remember that I wasn't the first to try it. Paul here was talking about someone training to fight, by shadow boxing. They looked effective, but didn't actually hit anything.
Paul is suggesting that his work was effective in working toward the goal of an incorruptible crown. In other words, the work of the Christian life earns rewards more valuable than a leafy wreath that will wither away in a few days.
A personal moment of Nostalgia
The headline read, "Final sparring session of South River Knight of Columbus Boxing Club." The Boxing Club at the old "K of C" in South River, New Jersey, was where I learned to fight. Twenty-five years later, it was closing up shop.
My dad and I (and I think my brother was there too) entered the little boxing club, apparently at a time of day when not many people trained. I remember it being not very well lit. It smelled odd. I think I was twelve or thirteen.
An old man stood up from his desk in the corner and walked over to greet us. He introduced himself as Tony Gabriel. After my dad explained to the man that he wanted us to learn to box, the man took a look at me and said, "You want your first lesson?"
Curious, I answered, "Sure!"
He stood in front of me and put one foot in front of the other.
"Stand like this." He said. So I did.
He put his hand on my shoulder and put light pressure against me a few times. Then he put his feet together.
"Now, stand like this.", he said.
When I did, he immediately shoved me. As I was stumbling backwards trying not to fall he said, "Never stand like that."
That was my first lesson in fighting. Subsequent lessons would all come from trying not to get punched in the face…. and getting punched in the face anyway.
The kids that learned to box in that small, New Jersey, "South River Rat" club elected to be there. It was the kind of place that kept kids off the streets and channeled their energies into something where some life lessons could be learned. Such lessons like enduring hardships, reaching goals, and getting used to others trying to win something at your expense. After all, competition as well as life, involves all of that.
A premise from a punch in the face
When you're a kid and you spar for the first time, there are many emotions when (possibly for the first time in your life) someone tries to punch you in the face, especially if they land said punches! And there are real-world scenario's that, well, getting punched in the face can prepare you for.
A partner in training
Here are three things getting punched in the face can help train you to do. These do not constitute a replacement for the work of the Holy Spirit in your life (See Galatians 5:22-23 and Philippians 2:13). Instead, see these as practices you have in partnership with the Holy Spirit in your life.
Growing as a Christian is presented in Scripture as something the Holy Spirit does in you, and as something you commit yourself to practicing. It's not one or the other. It's both.
Getting them out of balance leads to either the error of self-sanctification or the error of unfulfilled good intentions. These four things I will mention do not exclude the Holy Spirit's work, but instead focus on the part of sanctification you can practice yourself with His help. Here they are:
1) Rule your spirit
Proverbs 16:32 He that is slow to anger is better than the mighty; and he that ruleth his spirit than he that taketh a city.
There's a reason that sparring tends to escalate sometimes into full contact, gorilla-style rage matches. When people punch you in the face, it's easy to take it very personally unless one has learned to control their emotions. Learn to keep anger and other emotions in check. If they take over, you'll stop using proper technique. In the same way in life, you'll say and do things you regret if you let emotions get the better of you.
Endure some blows
Proverbs 19:11 The discretion of a man deferreth his anger; and it is his glory to pass over a transgression. (See also Proverbs 26:4-5)
Not every time someone swings at you does it require a response. Sometimes just having a thick skin and a guard that stays up will help the blows just glance off. Some offenses in life don't even deserve to be answered. Some do. Just be ready for them, guard up, pass over it, and let that one go.
Think under pressure and respond
Philippians 3:12-14 Not as though I had already attained, either were already perfect: but I follow after, if that I may apprehend that for which also I am apprehended of Christ Jesus. Brethren, I count not myself to have apprehended: but this one thing I do, forgetting those things which are behind, and reaching forth unto those things which are before, I press toward the mark for the prize of the high calling of God in Christ Jesus.
This one is more subtle. This passage has to do with learning Christ. We're not just learn Christian "moves". We are to learn Christ. (See Philippians 3:10)
Thinking strategically in the moment requires time, practice, and experience. Most any man thinks he's a great fighter and envisions himself looking like Rocky Balboa, when in reality, in a real fight, he'd look more like Barney Fife. Virtually every man who hasn't trained to fight overestimates his ability to win a fight.
The principle I'm trying to convey here is the idea of developing comfort in conflict because you've been there before. We might call that "maturity" in the Christian life. Paul's desire was to not just learn Christ-like things, but to be like Christ, think like Christ.
In martial arts like Brazilian Jiu-jitsu, people say things like, "a Black Belt is just a White Belt who didn't quit." It's an interesting saying.
What it implies is that one must have trust in the process. One keeps coming, keeps taking pointers, keeps practicing technique, keeps sparring, and does all of this even through times when he doesn't notice any improvement.
It's like an ice cube rising in temperature. You don't see anything happening. Then it hits 32 degrees and you start to see traces of liquid water. Then it just starts melting. From 25 degrees to 31 degrees, you saw absolutely no change, then suddenly, it happened.
The Christian life is similar. Don't expect growth of any value to happen overnight. The Christian life is a lifelong discipleship in which one learns to think like the Lord Jesus Christ in any circumstance. This means the early years of the Christian life may look rather… well, clumsy, not unlike a rookie fighter who puts his feet close together in the ring and gets knocked off balance. You get the idea.
We've all seen newcomers to church who make professions of faith and then immediately, the preacher tries to change everything about them. Perhaps that makes the preacher look like a an expert disciple maker? In any case, they "grow" by leaps and bounds for a while and then, pffftt, nothing. They may even leave all together. Then the preacher blames them!
Why is this? They're made to feel like a world-champion of Christian growth at church because they're doing everything the preacher tells them, but they don't yet know how to think like Christ. Then they get up on Monday and "self" is waiting for them in the ring and makes minced meat out of them. Then they get discouraged.
Yet if you give them time, room to grow, grace if it seems "clumsy", and encourage them to keep at it, you might just start to see things come together. It takes a while to develop the ability to think like Jesus in the fight that is the Christian life. During the process, they are going to get punched in the face (figuratively speaking) and awful lot. Aim for small, regular improvements. My mentor in the ministry likes to say, "Truth is like paint. It's best applied in thin layers."
The fact is, you will endure a lot more things in the Christian life if you are discipled with the "long-game" in view. My Jiu-Jitsu Professor likes to say about martial arts, "It's not a sprint. But it's not a marathon either. It's a marathon with occasional sprints in it."
As silly as it sounds to compare that to the Christian life, it seems to be a fitting analogy.
You may go through stretches of time where your growth is imperceptible, but just keep training and trusting the process (see Philippians 3:12). You'll look back at some point and see how far you came. You'll find by that point you don't have to think about "moves", you'll just think like Jesus. You'll think Christ-like even under pressure, even in conflict. You'll never be fully like the Master, but you will get better.
Paul's Christian growth enabled him to handle great conflict like being in prison and suffering material need during which he wrote:
"I know both how to be abased, and I know how to abound: every where and in all things I am instructed both to be full and to be hungry, both to abound and to suffer need. I can do all things through Christ which strengtheneth me". - Philippians 4:12-13
It's no wonder that Paul used things like combat (2 Timothy 2:3, Ephesians 6:11), boxing (1 Corinthians 9:26), and wrestling (Ephesians 6:12) to illustrate the Christian life.
It's because it involves thinking carefully and strategically. It involves practice and faithfulness. It involves commitment. It involves often enduring things.
Though we may not be enduring prison or hunger, we have the challenge of entering the ring with our old nature of "Self" everyday.
Unless we learn to rule our own spirit, endure some blows, and think like Jesus under pressure, we're going to get "punched in the face" a lot. It takes time. Let's learn the right lessons from it and get back up.
What lessons have you learned through hard things? Comment below!