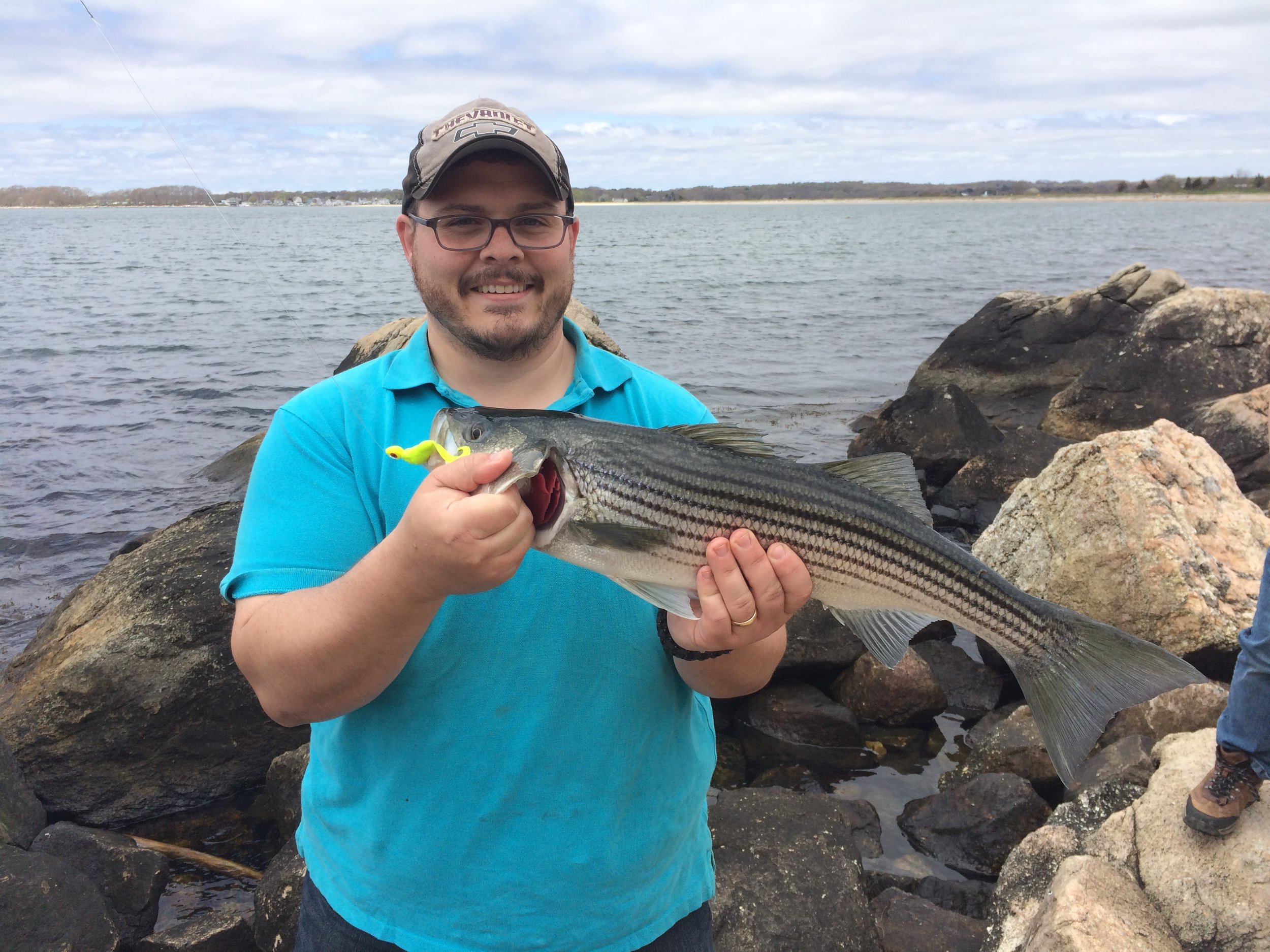 How to Fish for Striped Sea Bass
So, let's be clear. This is not a comprehensive guide, nor can it be. Fishing is one of those things were it seems few objective realities exist.
One guy can throw a $20 surface popper and the guy next to him a $2 clearance swim bait and they both catch fish. The next day, one catches and the other doesn't. The day after that, neither one catches a thing. Anglers act like they know, but we all just throw something out there and hope for the best. At best, we're just trying to manage patterns that change too often to be patterns.
So, this is not the be-all-end-all guide. It's more or less just the way I do it. That's all. I'll tell you what gear I use most often, and the conditions I've found best.
Let's start with the gear.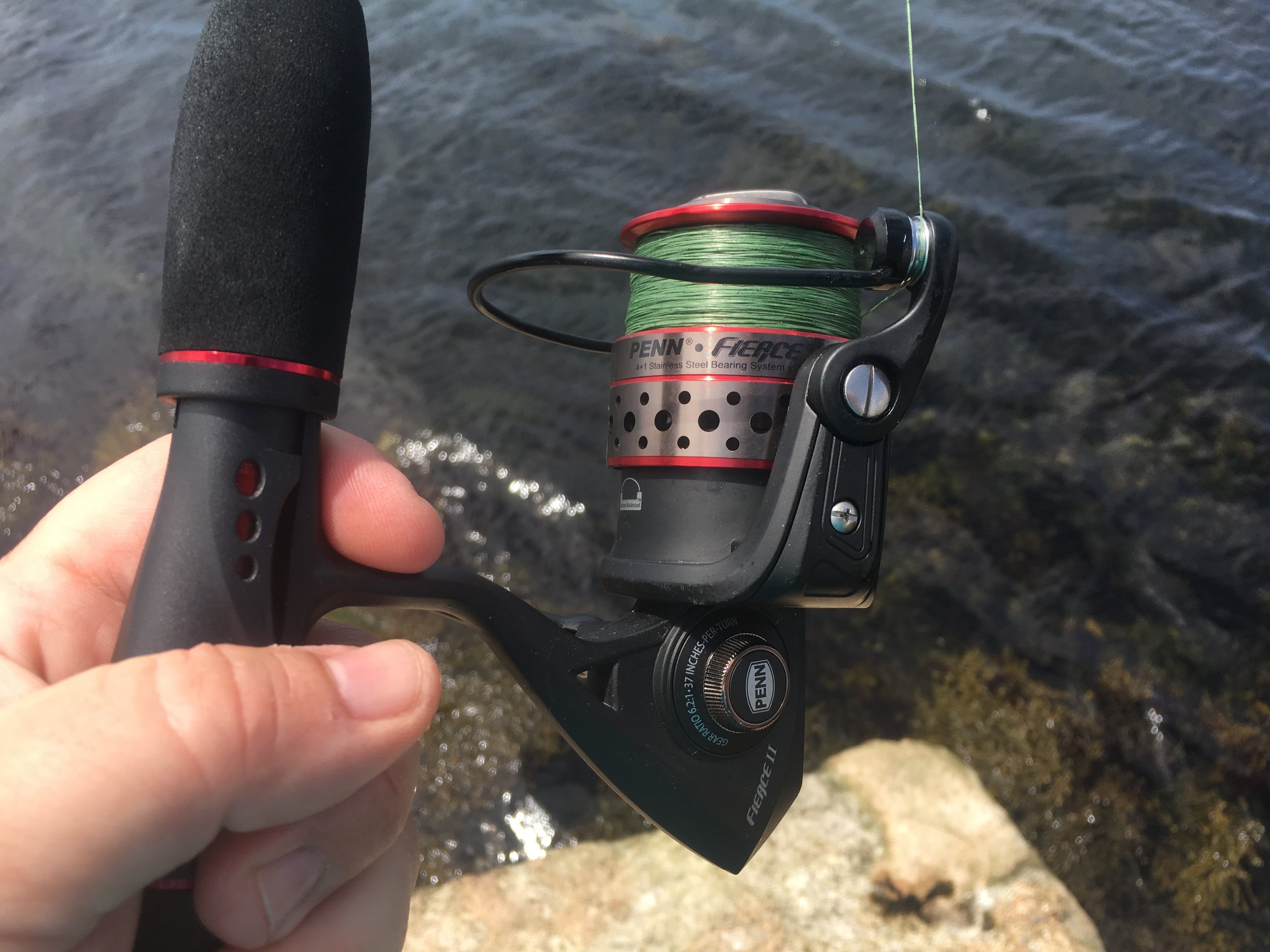 Reel and Line
Here, I'm using a Penn Fierce 4000 spinning reel. "Spinning" is simply a reference to the type of reel. Other types include bait-casting reels or fly reels. The Spinning reel is the go-to, all around type that most people have. You can identify it by that little metal hoop known as the bail.
For line, I'm using green 20lb, braided Spiderwire. My reel and line are a bit more heavy duty than what I actually needed for this.
A Versatile Rod
My fishing rod is a 7 foot Ugly Stick GX2 graphite rod with the UglyStick's trademark fiberglass tip. It's a medium-action rod, meaning it has enough flex that you can get some movement when you're trying to presenting lures with action, but it's stout enough to really load the rod for far casts. The "action" also determines how sensitively you feel things happening on the line.
Bucktail Jigs
The go-to lure for Striped Bass (in the Northeast anyway) is often these white Bucktail jigs. A jig is simply a lead weight with a hook in it that you can then attach lure materials to, in this case, deer hair. Most fishermen add an "enticer" to the jig to make it look more like a squid. For that, I used a soft plastic grub tail. There are typically dropped to the bottom and then retrieved with a bouncing motion. This is called "jigging". If there's current, you can just let them drift on their own.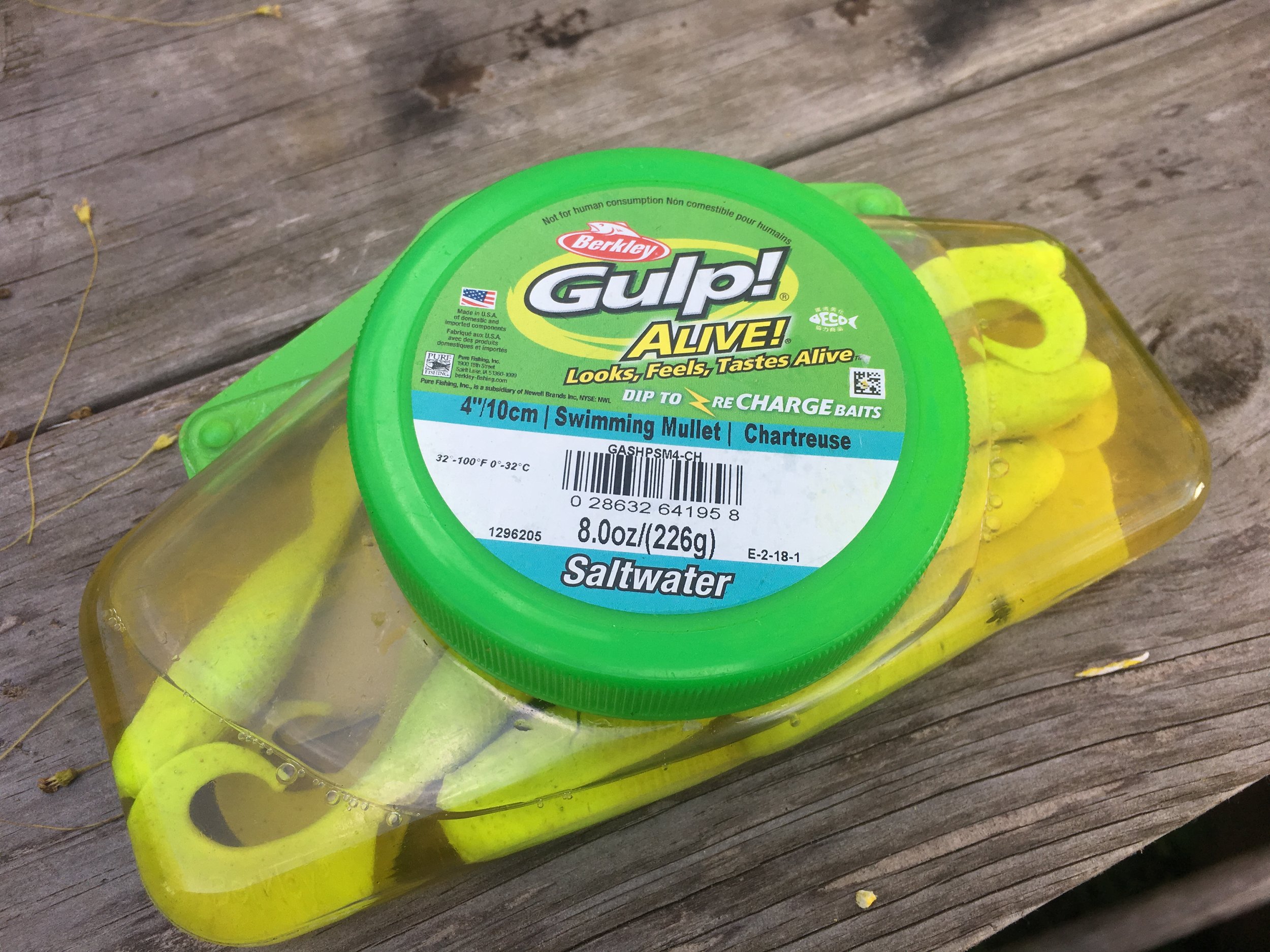 Swimming Mullets
One thing that seems to work almost as good,!if not better than Bucktails, are these Gulp Alive, Chartreuse Swimming Mullets by Berkley. They're not actually alive though. They're soft plastic and they come in a solution that smells kind of bad, but fish love it. They're used by threading them onto a jig head.
3/8 Ounce Jig Heads
I picked up matching jig heads for the mullets. I wasn't anticipating much current, so 3/8 ounce was plenty heavy. I was fishing outside the channel at high slack tide. If you're in a channel, or somewhere when the tide is ebbing, you might want something heavier to get to the bottom easier.
The Completed Lure
I've threaded the soft-plastic mullet onto the jighead with the hook exiting the back. It's not an exact science, but I suspect you get a better presentation of the lure this way. It seems to "swim" more naturally.
These soft-plastics are realistically soft, so jigging them right on the bottom seems to tear them or pull them loose sometimes. Instead I tried to fish the lower end of the water column without directly hitting bottom. To do that, just retrieve slow and don't stop long enough that the bait drops.
Here, I tied on my leader with an improved half blood knot.
Leader Overkill
Fluorocarbon leader seems to be the best at staying invisible to the fish. Here I'm using 40 pound test. Again, I tend to overkill on most things. I use about 24"-26" of leader. I'd tell you what knot I use to attach it to my braided main line, but I don't even know. I just know it works.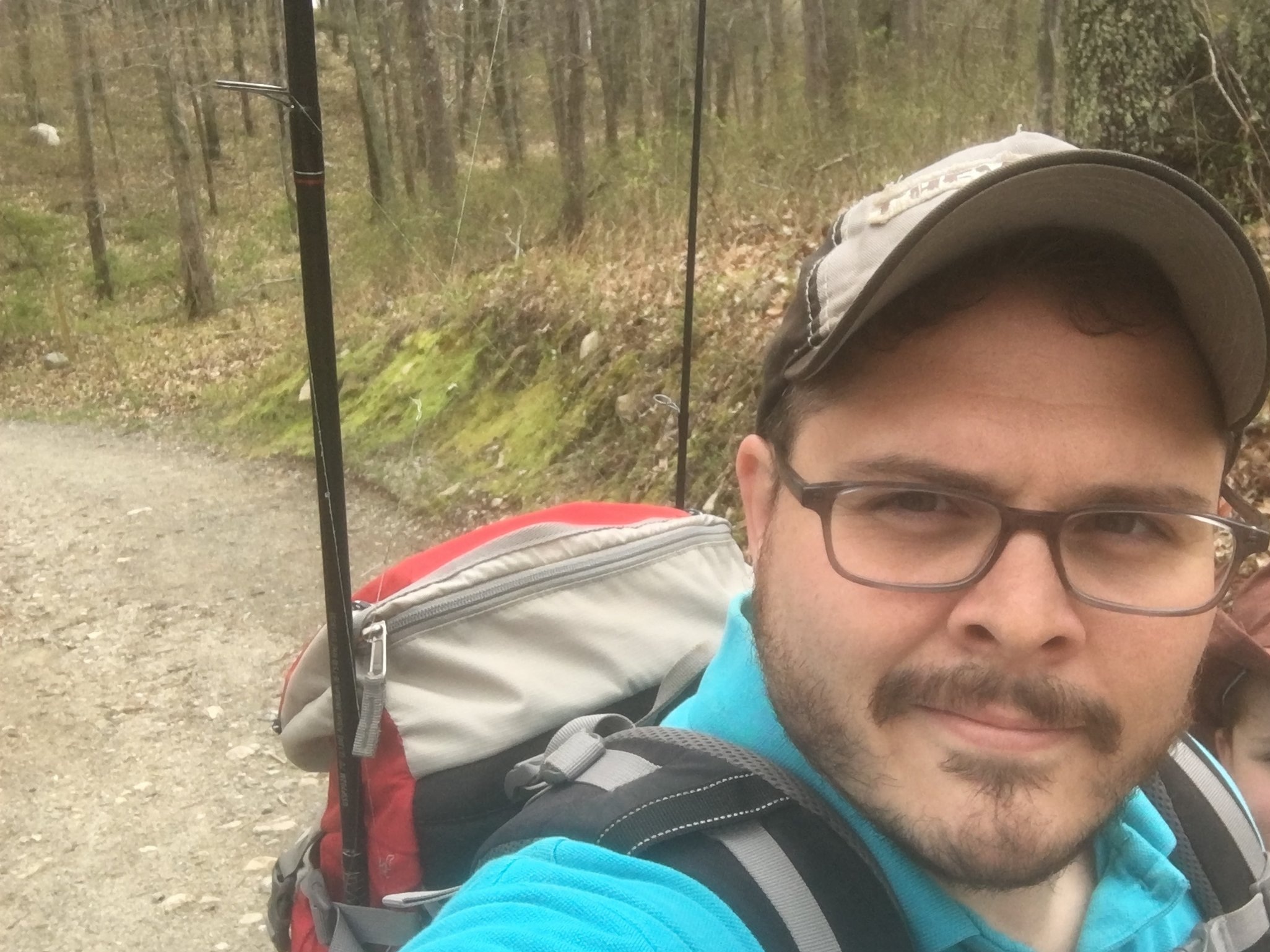 Packing out the gear
It was almost a 2 mile hike out the fishing spot, so I broke down the rod and packed out all the gear to the fishing spot.
The Perfect Spot
This place is beautiful. It juts out into the long island sound, and we hit it on the perfect day. The weather was amazing.
The water was about 51 degrees Fahrenheit, which is not too bad. 55 Degrees is considered by most the be the magic temperature.
I also planned it so we'd be throwing lines right at high slack tide, and fishing on as the tide went out. It worked perfectly. The bite was on, and I got two within the first 15 minutes.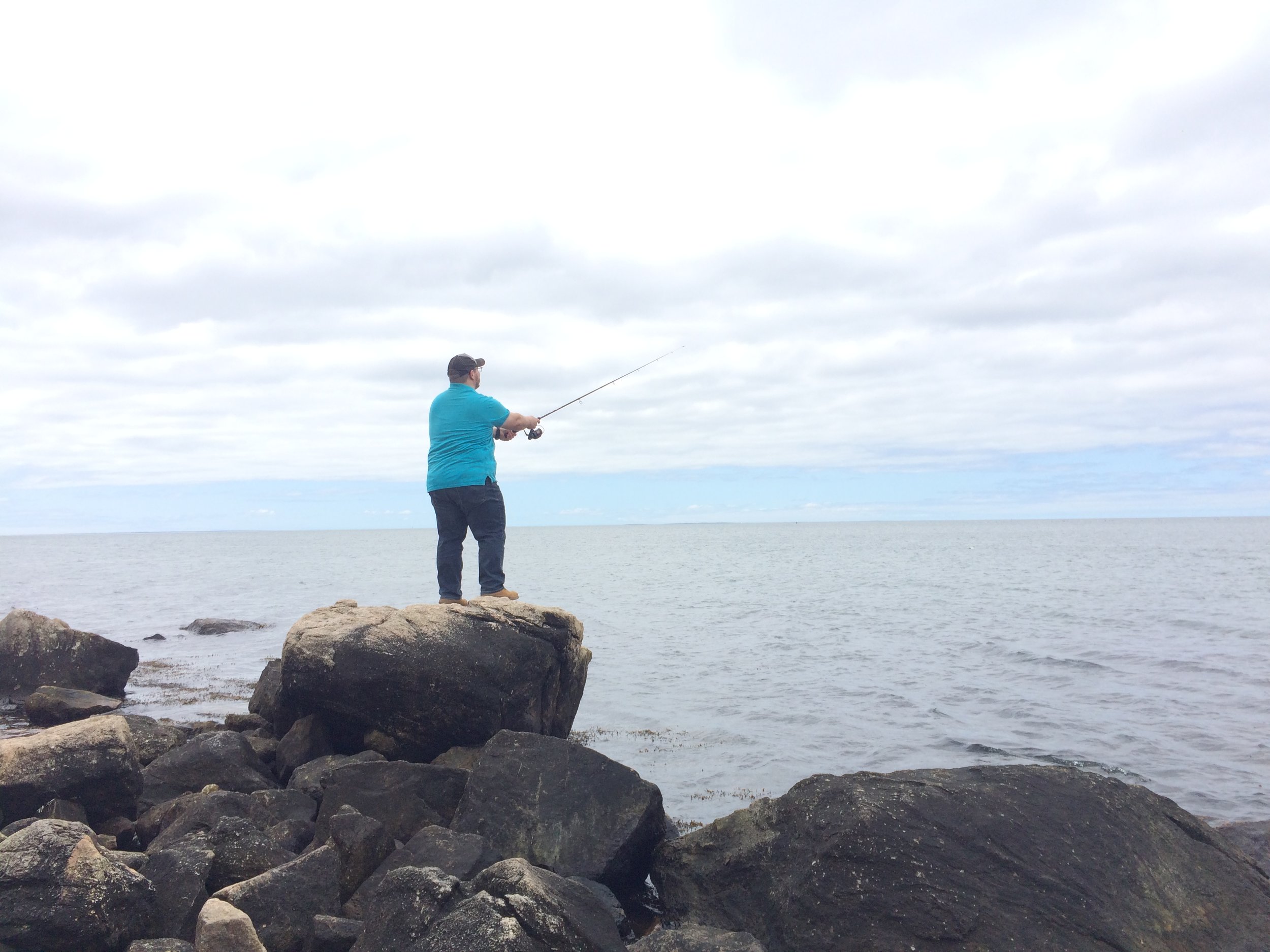 Casting into the wind
The only downside was the wind. It wasn't bad enough to cause wind knots in the line, but it was enough to cut my casting distance a little bit.
The First One of the Season
My first saltwater fish of the season looks to be about 24" inches. In the picture, my wife was momentarily holding the the tape measure in the wrong spot when I snapped it, so it's not quite accurate in the photo. You're supposed to measure from the notch in the tail. In Connecticut the legal minimum is 28 inches. I might have been able to make that if I'd "accidentally" stepped on the fish. It may have crossed my mind at some point. But no, I let him go.
Saltwater Fishing Gear
Saltwater can be corrosive, so it's a good idea to wash off the reel when you're done for the day. I also wash off my lures so the hooks don't rust.
After that, you're ready to go for the next time! Tight lines!
Other Posts You Might Like